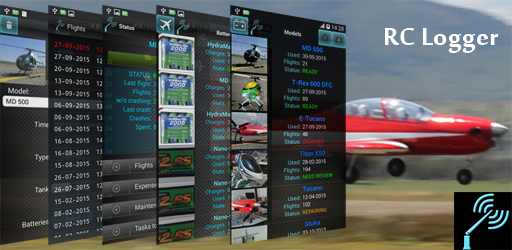 Manage all your RC Airplanes and Helicopters and take care of all your rechargeable Batteries.


Main features
English (default) or Spanish depending on your phones language setting.
Flights Log. German soon.
Manage all of your Airplanes and Helicopters(Gas, Electric or Glow).
Maintenance notices for each model ("Tighten screws", "change glow plug", etc).
Manage your batteries (LiPo, NiCD, NiMH, LiFe,Li-Ion, NiZn, Pb, and others).
Manage expenses per model
"To do" list per model.
You can assign batteries to models. When a flight is logged the use of the batterie is logged too.
You can use one batterie for several flights.
You can use one batterie in Different Models.
You can use more than one battery in a model.
You can use the same battery in different models
You can specify to use a battery fixed to a model (Usually a NiMH bettery for the receiver).
Battery Log. Charges, discharges, state, status. Then you can decide which and when a battery should be used.
Backup your data in SD card.
Backup your data in Dropbox.
This way when you need to change your phone you won't loose your information.
Download the full user's guide in ENGLISH
Download the full user's guide in SPANISH